What is a Corporate Sponsorship?
Corporate sponsorships are a partnership between a corporation and a nonprofit organization like Food for Life Global. In these partnerships, nonprofits benefit from financial and in-kind donations while corporations benefit from the increased visibility and a brand image that aligns with the growing base of conscious consumers.
Here's the Problem
Food insecurity has been on the rise since 2018. Even before the global unrest that is currently happening, the increased severity of natural disasters, conflicts, and the pandemic all have impacted food security for millions of people around the planet.
In 2023, the situation in Ukraine has moved some countries into crisis mode when it comes to global food and grain shortages. Millions of people around the world are struggling with issues of food insecurity and malnutrition. The global inflation we've all experienced is also a factor and has only increased the problem of global hunger.
The Power of Corporate Partnership for Sponsors
Increased Visibility and Revenue
When corporations choose to partner with nonprofits like FFL, they gain access to our social media, website, and email audience which can help to increase brand recognition and expose people to the products or services you provide.
Happier Employees
Many corporations are struggling to attract and maintain a qualified employee group so when they prioritize social responsibility and community involvement, they can increase workplace satisfaction with their team.
Better Brand Image
Today's consumers are more likely to support brands that prioritize social responsibility. Corporate partnership can be a way for you to distinguish yourself from your competition and cultivate even more brand loyalty with your customers.
The Power of Corporate Partnership for Nonprofits
Increased awareness of global hunger
One of the goals and organizational missions of Food for Life Global is education. Not just for the children and adults who are suffering from food insecurity and hunger but for those of us with plenty who may not be aware of the struggles people face.
We've all heard about hungry children but it can be easy to get caught up in our own lives and the issues fall to the wayside as we all face the challenges of daily living.
Partnering with responsible brands can help keep this cause in the spotlight, ensuring that we don't get complacent and that we remember the nonprofits who need our help when it comes to donation seasons like the end of the fiscal year or when it's time to take care of estate planning.
A way to acquire new like-minded supporters
Nonprofits benefit greatly in ways that go beyond financial when they enter into a corporate sponsorship relationship. It becomes an "audience swap" for both organizations with the added benefit of boosting the credibility of the nonprofit with the company's customers.
This can lead to even deeper relationships with a wider audience which is a big boost to those of us out in the world trying to make it a better place.
5 companies that offer corporate sponsorships for nonprofits
These five organizations are examples of how businesses and the power of corporate sponsorship. They work with nonprofits like ours and are important partners when it comes to creating a better tomorrow for us all:
How Can Corporate Partners Contribute
There are a few different paths corporate partnerships can take. Here are some examples of how your company can partner with FFL or another nonprofit.
In-Kind Sponsorship
This type of sponsorship involves the donation of goods or services, such as providing food, transportation (this is critical to many of our FFL projects), or other equipment.
Financial
Financial contributions are often the most impactful way to sponsor a nonprofit, especially when the funds can be used to not only achieve the vision of ending world hunger but to support efforts in other ways such as marketing.
FFL gives 70% of every dollar donated back to affiliates who are feeding the hunger. 20% goes to marketing which is critical for bringing in more awareness and more donations to fund food relief efforts. The remaining 10% is used to fund the basic operations of nonprofit organizations.
One of the many advantages of serving only plant-based meals is how cost-efficient it is. Our affiliates can feed a person for only .50 a meal! That's an incredible feat that we're very proud of given the hurdles we are all currently facing when it comes to the supply chain and the lines that only seem to get longer at our food distribution sites.
Media
Sponsors can make a huge impact by supporting nonprofits on their media channels. This helps lend credibility and raise awareness about issues and the different ways people are coming together to improve the lives of others.
Employee Giving
Employees are looking for companies that value social responsibility. In some cases, employers will pledge to match employee gifts or will give their employees paid time off to volunteer hours at an event sponsorship a local nonprofit.
How Food for Life Global Cultivates Relationships with Corporate Sponsors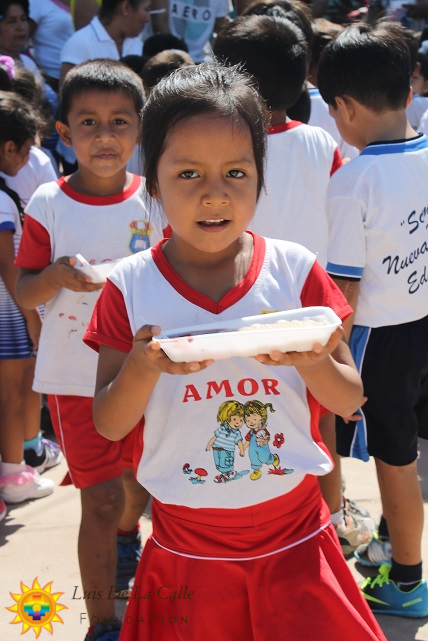 Established in 2016, the Luis De La Calle Foundation is "in the business of empowering individuals, communities, and society in three key areas: education, social service, and the environment. The work we do at our social welfare organization is aimed at providing a holistic approach to solving some of our society's biggest challenges. By empowering each other we are working towards a brighter future.
Kind Veg started out as the CAP Food Outreach. In 2019 CAP rebranded as Kind Veg. All donations or grant funds received go towards purchasing healthful plant-based foods or for minimal business expenses. We are dedicated volunteers desiring to help people within Erie County, PA. Our mission is to provide healthful, healing plant-based foods and personal care items to eligible low-income people. It is in this way King Veg is helping in the best ways we can.
With the help of our worldwide family, friends, and supporters Starlight Family supports vulnerable children and adults in Nasuuna and Nakassagazi villages, Kiboga, Uganda.
Starlight Family's young founder, Lukyamuzi James was himself an orphan and street child and knows the difficult conditions faced by many living in his local area today. The charitable meals provided are plant-based. Starlight is keen to start spreading the message of compassion for beings by adding animal welfare education to the projects they deliver.
Currently donations are helping with food, clothing, shelter, and the medicinal and educational needs of beneficiaries. In the longer term, Starlight Family projects will not only raise standards of living for the most vulnerable but help the charity to become self-supporting.
Food for Life Accra is a humanitarian group dedicated to distributing whole plant-based foods and takes pride in being a channel for positive change in the lives of others.
Recently, they could be found on the street putting smiles on the faces of the young and old who came to them needing nourishment. They're known to distribute hundreds of pure plant-based foods at the Tema Station in Accra.
Corporate Giving Information
When it comes to corporate giving, it's important to choose a nonprofit that aligns with your brand values. This is a critical piece when it comes to both the brand and the nonprofit's partnership.
Conclusion
Corporate sponsorship opportunities can play a powerful role in driving global food relief efforts. By partnering with organizations like Food for Life Global, brands can make a meaningful impact on the lives of people in need around the world.
Through financial and in-kind donations, media support, and employee giving, corporate partners raise awareness about the issue of global hunger.
With the urgency of food insecurity and malnutrition, now is the time for corporations to stand with us and make a difference.